Big Changes are Happening at RBR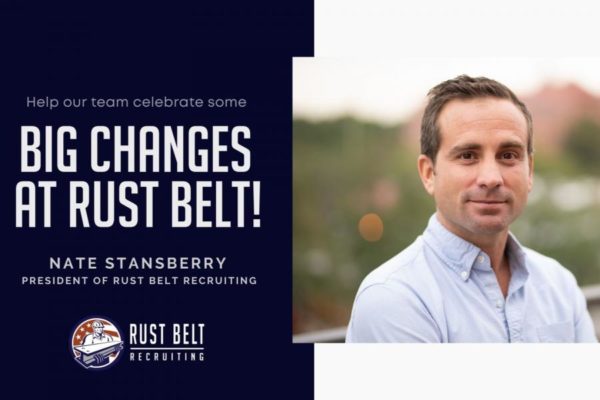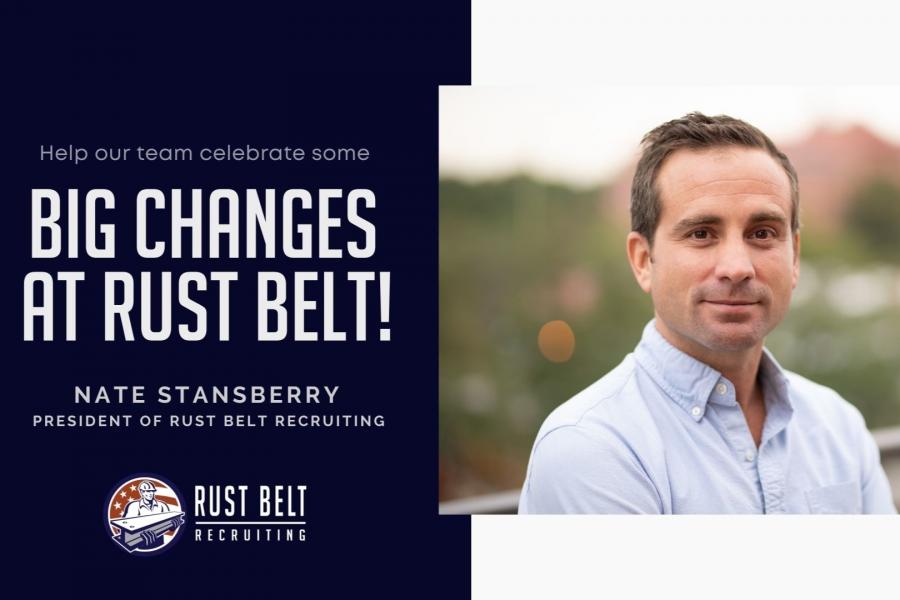 "The best way to achieve the goals of the company is by helping individual team members to achieve their own. By understanding and aligning the goals of each team member and the overall mission and objectives of an organization, growth for both is not only possible but inevitable." – Nate Stansberry
Rust Belt Recruiting's leadership structure has experienced some big changes over the last few months. Effective July 1, 2022, the company's Founder and former President, Taylor Evans, has elevated Nate Stansberry into the role of President. Since September 2021, Stansberry has been the Director of Recruiting for the organization, leading and growing a team of recruiters that serve as the pulse of the organization.
 Evans says, "The decision that I have made to step out of the role of President of Rust Belt Recruiting is for the purpose of growth and development, on both a personal and professional level." 
When asked about how his responsibilities will change in his new role, he responded, "We are so thankful that the business is strong, stable, and growing. Fortunately this allows me the opportunity to shift the allocation of my time to focus on my evergreen strength and passion – being the visionary [EOS terminology] for our organization. We are actively working towards expanding our service offerings for our current and future clients." Evans' long-time vision for the company has been to reach manufacturers at each step in their lifecycle, adding value in employer branding, recruitment marketing, and offering strategic consultation to aid client relationships in their workforce processes.
 Stansberry will inherit the day-to-day operations of Rust Belt Recruiting. Stansberry says, "Stepping into the role of President, my main responsibility will be making sure the organization and all of its team members are in the best position for success. I believe the focus of a leader should be to create an environment where the expectations are realistic, and that the tools and support mechanisms are in place to drive results. The best way to achieve the goals of the company is by helping individual team members achieve their own. By understanding and aligning the goals of each team member to the overall mission and objectives of an organization, growth for both the company and team members is not only possible but inevitable." With nearly twenty years of industry experience (including his former position within Rust Belt Recruiting), Nate has a proven track record of taking teams to the next level.
Changes to Expect in the Months Ahead
Evans will be proactively searching for the fit that will enable Rust Belt Recruiting to reach clients beyond traditional recruiting offerings. "In my new role, a lot of what I am going to do is continue to look for strategic opportunities for us to grow as a company outside of our current recruiting services. We will continue to develop complementary offerings that allow us to provide more holistic workforce solutions to clients and candidates."
Stepping into the role of President, Stansberry is looking to optimize the company's quality before making any increases in quantity. "We are looking to become more efficient by maximizing our internal team's ability to deliver results. It starts with focusing on our internal teams first and making sure that they are achieving what they want and what we expect of them before going out and adding new team members." He continues, "I see an opportunity to continue growing our team members, become more cohesive interdepartmentally, and be able to drive faster results for our clients and candidates. Also, anytime you take on a new role, especially in leadership, you have to listen more. I need to understand the other members of the supporting cast better within the organization. Lucky for us, we have a great team already and are well positioned for whatever the next challenge or opportunity might be for the foreseeable future." 
Stansberry's initial focus is to capitalize on areas of the business where the company is already delivering and expanding on what is working over the next six to twelve months.
As is often the closing line in important emails by Evans, Rust Belt Recruiting is continuing to move in one intentional direction:
"Forward. Always."