Evander: Less Stress From a Successful Career Shift To Manufacturing
Evander – Press Operator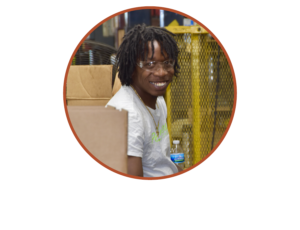 Evander was working a hotel housekeeping job before transitioning to the manufacturing industry. He reported his frustration of being overworked in this position as a result of COVID-19 staffing shortages. This stress ultimately led him to search for new employment opportunities. 
Luckily, Evander knew one of our recruiters. They reached out to Evander, talking over some opportunities to see if working in manufacturing would be a good fit for him. This led him to an employment offer from a metal stamping facility in Cleveland, Ohio.
When asked about his experience working with Rust Belt Recruiting, Evander said "It was good. I don't have any complaints. If I needed a job again, I would go through you guys." He reported that the hiring process was very quick for him, lasting only about two to three weeks. 
With his current employer, Evander has worked many of the different machinist positions in the plant. A few of his duties include sanding and transporting parts, as well as helping coworkers out on the floor when needed. Evander expressed that he is thriving at his current job, especially when compared to his previous one. The structure and independent nature of this position support Evander's work style. Evander is in training for a tool and die position at his current company. Outside of work, he is pursuing education in both money management and real estate. Rust Belt Recruiting has helped Evander to identify and work toward a meaningful, long-term career path. 
When asked how his life has improved since starting at his new job, Evander said "Oh man, stress. I'm not as stressed as much. It's a lot more stable." 
Interested in a career in the manufacturing industry? Check out our current openings or submit your resume for general consideration to connect with our recruiting team.
Rust Belt Recruiting is committed to connecting manufacturers with their most essential resource: workforce. Our goal is to match the right talent with quality employers. Check out our case study on Evander's employer to learn about how Rust Belt Recruiting works as an engaged partner to find solutions to your hiring needs.