Executive Search: Finding Industrial Talent Nationwide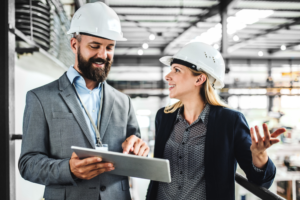 When your company has an executive role open, it is essential for the health of your business to secure the ideal candidate. When conducting a search of this nature, it is often necessary to look beyond traditional recruitment tactics to ensure success. An industrial company may utilize an executive search service for several compelling reasons. 
Time and Resource Efficiency
Outsourcing your executive search to Rust Belt Recruiting saves you valuable time and resources. We handle the bulk of the hiring process so that your team can continue to accelerate core business functions. This focused approach enhances the likelihood of securing executives who align with your company's culture and long-term strategic goals, ultimately contributing to the sustained success and growth of your organization.
A Consultative Process
For executive searches, we provide you with a dedicated recruiter. They will own all aspects of the recruitment process while checking in along the way to make any necessary adjustments. Prior to starting the search, they will gain an understanding of your organization's objectives, the role's requirements, and your company culture to ensure that they are sourcing the right candidates to present to you. 
Informed Decision-Making
Our recruiters will assess the candidates' skills, experience, cultural fit, and leadership potential so they can present you with a curated selection of top-tier candidates, along with their expert insights, to help you make informed decisions. 
They will also assist in coordinating interviews to provide a smooth process for both you and the candidates and provide guidance during offer negotiations to help you secure the desired candidate.
An Industry-Specific Approach
Our focus on the industrial sector means that our recruiters have their finger on the pulse, allowing them to confidently navigate this competitive and ever-evolving landscape. They are able to leverage our extensive network to source highly skilled candidates from all across the nation who may not be accessible through traditional recruitment channels. 
"When it came time to hire for a role as vital as our Controller, we recognized that it would take more than the traditional tactics to get it right, so we chose to outsource our recruitment to Rust Belt Recruiting. I knew right away that the RBR team was made up of professionals who really understood what I was looking for, and had the experience and resources to find top executives. I felt confident in RBR's ability to vet, screen, source, and interview candidates on my behalf. 

The RBR strategy was clear from day one, and they really worked with us to make sure they were on the right track throughout the entire process. The Controller we hired through RBR has been integral to our operations and is the perfect fit for our strategy. If you are looking to hire an executive leader, I cannot recommend Rust Belt Recruiting enough."

-Tim Novak, CEO, Martin Pallet
The right executive talent can be a transformative force for your company. Rust Belt Recruiting is here to help you secure that talent efficiently and effectively. By choosing our executive search services, you gain a partner dedicated to delivering exceptional results. Whether you're seeking C-suite executives, department heads, or niche specialists, we have the expertise and reach to find the talent that will drive the success of your organization. 
Contact us today to discuss your unique talent needs!