Joe: Opportunity For Career Growth In a Manufacturing Plant
Joe – Standard Tool & Die Manager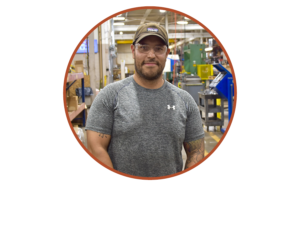 Joe was introduced to the manufacturing industry by a family friend when he was 19. He says that the transition into this industry felt natural as he has always loved working with his hands. He has worked in several different roles in the manufacturing industry. He held his previous role for about four years, when in pursuit of career growth, Joe started searching for another position. 
Within a few short weeks, he was in touch with one of our recruiters about a supervisor position at a metal stamping facility located in Cleveland, Ohio. 
"It was quick and easy…There was good communication and quick response on both sides, making the transition go pretty well from one company to another." 

– Joe on his experience with Rust Belt Recruiting 
Joe is now the Standard Tool and Die Manager at said metal stamping facility. He says that he has watched himself quickly become one of the more experienced employees on the floor and reports that several lesser-tenured employees come to him seeking to learn on a daily basis, speaking to the positive company culture and encouragement for learning. Joe himself is also committed to continuing to learn. He says that he plans to attend more classes with help from the company to learn more about tool and die, with the end goal of being a plant manager one day. 
"They are always willing to train people and that's what has really helped me outside and inside as a person, just learning."

– Joe on his experience with his current employer
Outside of work, Joe spends his time with his family and friends. He loves playing volleyball and other sports when the weather is nice. When asked if he can see himself long-term at his current company, Joe says yes. He says that the company puts effort into its culture and as a result, everyone is easygoing, making his day-to-day enjoyable and fulfilling. 
Interested in a career in the manufacturing industry? Check out our current openings or submit your resume for general consideration to connect with our recruiting team.
Rust Belt Recruiting is committed to connecting manufacturers with their most essential resource: workforce. Our goal is to match the right talent with quality employers. Check out our case study on Joe's employer to learn about how Rust Belt Recruiting works as an engaged partner to find solutions to your hiring needs.