Northeast Ohio's Best Hiring Resources For Manufacturers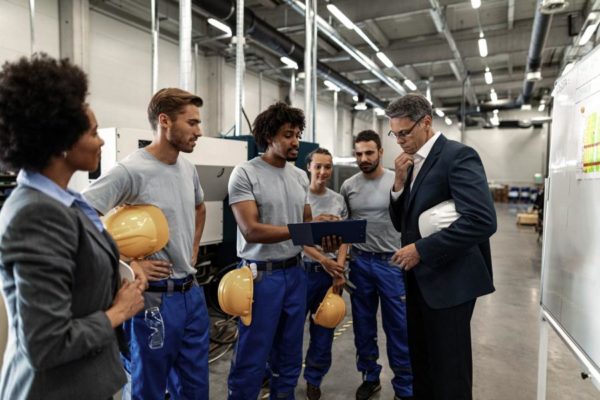 When most people think of manufacturing they think of huge assembly lines inside a 10,000 square foot facility with hundreds of employees working at all hours of the day, but that's actually quite the opposite of what America's manufacturing industry looks like. In fact, over 98% of U.S. Manufacturing is produced from small businesses, and over 75% of those small businesses have less than 25 employees.
According to the Small Business Administration in 2019:
355,467 manufacturing companies have no employees
187862 manufacturing companies have between 1-20 employees
60,099 manufacturing companies have between 21-499 employees
3,8313 manufacturing companies have more than 500 employees
These numbers are surprising, so naturally, it beckons the question; What exactly constitutes as a 'manufacturing organization'?
At a base level, it's a business that creates products from raw materials or components, and while factories, plants, and mills come to mind first, that is not the only kind of manufacturing out there. Any business that takes part in transforming materials into new products is considered a manufacturer, which includes bakeries, custom tailors, and many others you probably wouldn't think of when you hear the term.
When we think of how many different businesses out there that can count to the economic impact of manufacturing, we can't ignore the obvious issue of America's workforce and its participation. In 2020, the National Association of Manufacturers reported that American manufacturing employed over 8.5% of the U.S. workforce, all while almost 90% reported that they could not fill all their job openings. With manufacturing serving as the fifth largest employer in the U.S., the struggle to put people in seats at these facilities causes a continuous lag in our ability to meet the needs of supply chains and deliver at full capacity.
While the concern to address the workforce shortage should not be ignored, there is hope. The U.S. Census Bureau and Deloitte US believe there is "growth despite turbulence". Shipments have increased nineteen of the last twenty months and unfilled orders were up for the majority of 2021. Deloitte says, "The manufacturing industry is building back fast, undeterred by significant labor and supply chain challenges. To maintain this momentum, manufacturers should navigate elevated risks while advancing sustainability priorities".
Overall, the manufacturing industry is filled with many unique challenges exalted from the many of small organizations that make up this large industry. In fact, Rust Belt Recruiting was created with just that in mind and exists to help alleviate some of these challenges, specifically in workforce development. And lucky for us, Northeast Ohio is known to be 'resource heavy', and is especially true for the manufacturing industry with countless organizations dedicated to the cause. Below are 10 of the best resources that manufacturing companies in Northeast Ohio can take advantage of.
1. JobsOhio
JobsOhio is a private, nonprofit corporation designed to drive job creation and new capital investment in Ohio through business attraction, retention, and expansion efforts. JobsOhio was established in the aftermath of the Great Recession. In 2007 Ohio was ranked 48th in its prospects for growth and job creation. Since the creation of JobsOhio in 2011, they have helped over 2,100 Ohio companies keep and expand their businesses within the state and over 500 companies establish a presence in Ohio. JobsOhio plays a leading role in economic development and serves as a catalyst to accelerate growth by investing in communities, helping Ohio's businesses expand and attracting new companies to the state – all contributing to job creation, greater payrolls, and more investment.
2. Team NEO
Team NEO is a business and economic development organization focused on accelerating economic growth and job creation throughout the 18 counties of Northeast Ohio.This is done by building partnerships among local organizations, businesses, and government and marketing the region as a whole. Team NEO has been a network partner to JobsOhio for over 10 years. As a partner to JobsOhio, Team NEO provides local economic development organizations and their clients with information on and access to state and JobsOhio support as well as resources across the region.
3. MAGNET: The Manufacturing Advocacy and Growth Network
MAGNET is a non-profit consulting group focused on growing Northeast Ohio's manufacturing industry. Their mission is to help manufacturers grow and compete in Northeast Ohio.
For more than 30 years, MAGNET has been driving Northeast Ohio's manufacturing growth by supporting small- and mid-sized manufacturers. They provide hands-on support with business consulting, new product design, operations excellence, and workforce innovation, bringing industry, education, and community leaders together to create tomorrow's manufacturers. MAGNET supports organizations of all sizes and in all points of the growth cycle. They offer support services for growth, product development, and workforce. MAGNET has three locations in Northeast Ohio, one in downtown Cleveland, Akron, and Canton.
4. Manufacturing Works
Manufacturing Works helps small and medium-sized manufacturers in Northeast Ohio thrive by providing the guidance and knowledge that help manufacturers understand the fast-changing trends in technology, talent and organizational leadership. Manufacturing Works also manages the Cleveland Industrial Retention Initiative (CIRI), a program of the City of Cleveland, that links manufacturing businesses to valuable community resources in Cleveland, Ohio. Manufacturing Works partners with the City's Department of Economic Development to help manufacturing companies grow. Since 2015, over 3,900 jobs and $195.2 million in annual payroll were impacted by CIRI projects.
5. Alliance for Working Together (AWT)
The Alliance for Working Together (AWT) was started in 2002 as a small, informal group of manufacturers, who met to discuss topics of interest and best practices among local manufacturers. In 2012, the AWT Foundation became a 501(c)(3) non-profit organization and now the AWT Foundation has 500+ manufacturing companies, community organizations, and school members. The AWT Foundation is hard at work to change the overall perception of manufacturing.
6. Smart Manufacturing Cluster of Northeast Ohio
The Smart Manufacturing Cluster of Northeast Ohio accelerates the growth and competitiveness of the Northeast Ohio economy through industrial IoT implementation and innovation that leverages the region's rich manufacturing heritage, unique assets, and talented workforce.Is your organization ready for the Industrial Internet of Things (IIoT)? To remain competitive in a global economy, innovation has become increasingly important. IIoT offers an opportunity to gain a competitive advantage and improve the growth trajectory of your business.
7. Ohio Means Jobs (OMJ)
OhioMeansJobs is Ohio's free, online career counseling center that connects businesses to job seekers and provides career services to all Ohioans. OhioMeansJobs.com is a resource for job seekers and for employers. Job seekers like veterans and Golden Buckeyes, or individuals considering a career change can find tips specifically tailored to their circumstance. For employers, OhioMeansJobs.com can help with the hiring process. At a given time, there can be over 2 million active resumes readily available.
8. Entrepreneurial Manufacturer Digitization Support Center (EMDiS)
The Entrepreneurial Manufacturer Digitization Support (EMDiS) Center of Excellence at Cleveland State University was created to assist small-to-medium size manufacturers with the implementation of digital manufacturing technologies and to support the education and training of the smart manufacturing workforce of the future. Supported by CSU Faculty and MAGNET Growth Advisors, businesses can develop cost-saving strategies, trial new technology, and improve operations efficiencies while stimulating local job growth and retention.
9. Lorain County Manufacturing Sector Partnership
The Lorain County Manufacturing Sector Partnership (LCMSP) is a network of manufacturing companies working together to promote manufacturing and grow a skilled workforce.The LCMSP was created in 2018 and is an employer-led group committed to promoting manufacturing and growing the available workforce in the region for manufacturing companies. The LCMSP is a Working Group of the Lorain County Manufacturing Council, a 501(c)(3) serving manufacturers in Lorain County. Organizations in Lorain County can join this group of companies.
10. Aspire Greater Cleveland
Aspire Greater Cleveland is committed to creating an environment for adult learners to develop quality education and life skills, as well as the confidence to reach for and achieve their personal goals. Headquartered at Cuyahoga County Public Library's Maple Heights Brand and provides free comprehensive adult education services in Cleveland and throughout Cuyahoga County in collaboration with Cleveland Public Library, Cuyahoga County government, and Cuyahoga County Public Library, with support from the Ohio Department of Education's Aspire program. Aspire instructors teach morning, afternoon, evening and weekend classes at locations. Online classes are also available.
Each of these organizations are well respected and have proven themselves as a leader in connecting communities and making an impact on Ohio's manufacturing sector. Between having a meaningful relationship with community organizations, a strong hiring strategy, and working with a professional recruiting agency that not only puts resumes on your desk but also a consultative approach to building your workforce, any business can take on the challenge of today's labor market.
Contact us today to start rethinking your current hiring strategy!
---
---
Written by Rust Belt Recruiting's Northeast Ohio Business Development Representative, Matt Forlini.
Connect with Matt on LinkedIn to learn more about our workforce consultancy services, recruitment services, employer branding, industry trends, and more.