Reshoring and the Revitalization of the Rust Belt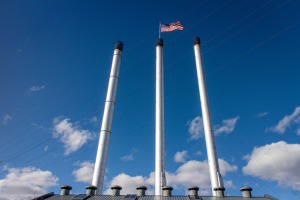 Stretching across the Midwest, the Rust Belt was the backbone of American manufacturing for the better part of the century. Automotive, coal, and steel industries dominated our region before offshoring became the norm. 
Offshoring is defined as the practice of basing some of a company's processes or services overseas, so as to take advantage of lower costs.
Most companies had no choice but offshore in order to stay competitive. This continued to be the norm until the unprecedented COVID-19 pandemic. The US manufacturing industry undertook some major changes when the pandemic hit the US at the beginning of 2020. Of what manufacturing jobs that still existed in the US, around 1.36 million jobs were cut at the start of the pandemic, a defeat for the hardworking people of our region. As the world recovers from the pandemic, there has been a collective push for reshoring. 
Reshoring is defined as the practice of transferring a business operation that was moved overseas back to the country from which it was originally relocated. 
This shift allowed for a resurgence of manufacturing positions in the US and has helped to breathe new life into the Rust Belt region. As of August 2022, data shows that the industry has added back 1.43 million jobs. This has created a net increase of about 67,000 workers since the pandemic began. Trends are moving in favor of workers, as illustrated by an emphasis on domestic production and purchasing by the federal government. This has opened the door for US manufacturers to shift production domestically and create new opportunities for employment in our previously declining region. (Source: afr.com)
---
Business leaders are now acutely aware of the volatility surrounding manufacturing and supply chains. We wanted to know what steps companies and leaders can take to be better prepared so we sat down with two leading experts and this is what we learned:
Harry Moser – Founder, Reshoring Initiative
Harry Moser is the Founder of Reshoring Initiative, a nonprofit organization, whose goal is to spread the "return-manufacturing-home" message to help manufacturers realize America is an advantageous place to produce goods. They focus primarily on bringing back as much manufacturing as possible, at the United States' current level of competitiveness. Secondarily, they work to improve competitiveness, by advocating for needed policy changes and by strengthening the skilled workforce in America. (Source: reshorenow.org)
Moser founded the Reshoring Initiative in 2010. Conversations around reshoring in this era were based on experiential feedback from companies that had offshored and then subsequently reshored. Moser cites John Gray, a professor of operations and business analytics at The Ohio State University. Gray conducted a study on four small to medium sized companies that had offshored and then reshored. When asked why they offshored, their answer was that they couldn't afford not to. When asked why they reshored, they cited inventory challenges, quality control issues, late-night phone calls and other struggles of that nature. They said that while offshoring initially provided cost-savings for them, the whole package didn't provide all the benefits that they had hoped for. During this time period, companies began to recognize that the grass isn't always greener on the other side.
Post 2020, the conversation around reshoring shifted to it being the solution to help companies avoid the consequences of possible disruptions. The first of course being the COVID-19 pandemic, but other notable disruptions mentioned were geopolitical strife, natural disasters and various uncontrollable factors. Leaders need to be asking themselves, if something like this happened, would your company still exist when all is said and done? If the answer is no, experts are advising companies to at least bring a portion of production back to allow your company to be more independent and sustainable. Overall, the argument for reshoring is similar to what it was prior to 2020. Reshoring helps us to achieve economic growth, social stability, works to improve the budget deficit, and gives us the industrial base to support defense efforts. 
Interested in learning more about reshoring? Listen to our podcast episode featuring Harry here or connect with Harry Moser on LinkedIn. 
Michael Ciatto – SVP and Supply Chain Line CEO at Genpact
Michael Ciatto is the SVP and Supply Chain Line CEO at Genpact, a global professional services firm. He notes that prior to 2020, supply chains were consistently overlooked and underinvested in. Historically, it has been viewed as a necessary evil. Even though it is essential to have in place, it typically isn't a driver of growth and therefore it generally gets the last investment. 
During 2020, the pandemic drastically affected the supply chain and it continued to be affected well after 2020 due to other factors, such as geopolitical strife. These disruptions are a clear call to action for business leaders to gain greater control over their supply chain. The lack of oversight that is coupled with offshoring means that when issues arise, there is less control and that starts to impact customers. Companies need to start taking steps towards investing in their supply chain before it begins to trickle down to their customers. Ciatto advises that the first step to investing in a company's existing supply chain is visibility. Specifically, reshoring is an effective way to gain more visibility over a company's supply chain and production. One of the easiest ways to introduce agility and responsiveness to the supply chain is by shortening the lead time which is achieved by geographical alignment. Ciatto also suggests adding intelligence and analytics to identify possible failures and how to fix them tactically, and lastly, digitizing those processes to make sure efforts are as streamlined as possible. 
Interested in supply chain trends? Listen to our podcast episode featuring Michael here or connect with Michael Ciatto on LinkedIn. 
Sources Used: