The Cleveland Comeback: How the Browns Making the Playoffs is a Metaphor for Our Region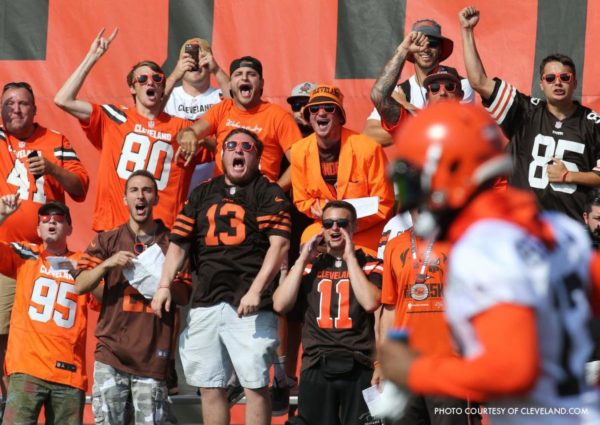 The Cleveland Browns, along with the entire city and Browns Backers located across the country, celebrated a momentous win on Sunday night –
our first NFL Playoff victory since 1994.
Despite curfew restrictions due to COVID-19, Clevelanders everywhere were glued to the screen as they watched in anticipation. Maurkice Pouncey's errant snap to start the game sent Browns fans into a frenzy and the flood gate was opened from there. A record setting first quarter put the Browns in a position to exorcise decades worth of abandonment, torment, and heartbreak. While the game remained a roller coaster nonetheless, our Brownies brought home a much needed victory and the freshest breath of air that we could have hoped for to start 2021.
Since the game ended, we have seen proud and passionate posts from fans all over the country touting excitement, relief, and confidence for the future. Upon reflection, this win alone speaks to the heartbeat of our region. We are made up of "Cleveland" fans everywhere. It may be Detroit or Toledo, Chicago, Buffalo….but we are tough, resilient people. We never give up and believe in the possibility of anything. The Browns have been the laughing stock of the NFL and the Midwest has been lamented in the nation's eye. But the pulse never stopped here. It may have slowed but it never stopped.
Now, as our proud football franchise roars back onto the national stage, it bears a striking similarity to the revival that the Rust Belt continues to experience. While we have gone through a bit of a right sizing due to population loss, our assets greatly outweigh our faults. We have the infrastructure to compete on a global scale once again. With the emphasis on reshoring and greater control of supply chains, we are proud to see our home rising once again. We have been down before but here we come America. Here we come!
The people of our region know that nothing is given and everything is earned.
That is why we do what we do; help the innovators of America's manufacturing belt fuel their workforce with talented tradespeople in the region. We seek hardworking men and women in pursuit of their passion. We are proud to represent many faces along the Rust Belt, the Great Lakes, and the Midwest region, that contribute energetically to the many creations of our country.
We'll be cheering on the Browns as they face the Chiefs. We know they may go through inevitable highs and lows during the game but trust that in the end, they'll make us proud and keep fighting for the city that never quit on them, or themselves.
Here we go Brownies, here we go… WOOF WOOF!